K-9 Retires to Spend Final Years as a Pet | News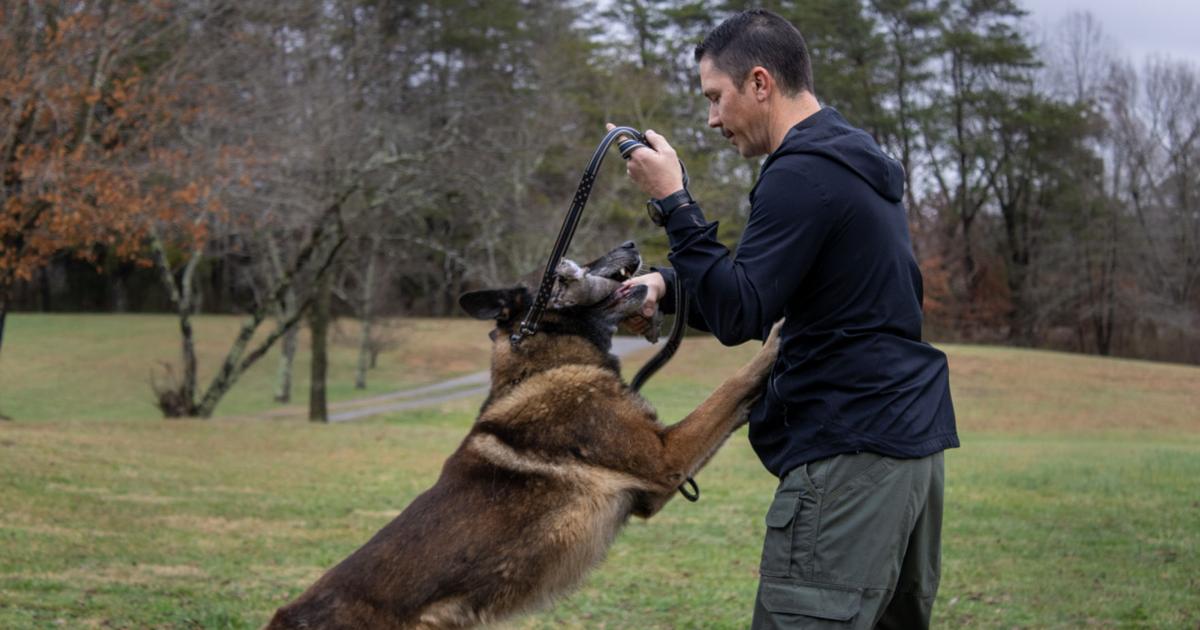 A police dog at work retired in late 2021 to spend his final years like most dogs do – receiving too many treats and tons of love.
Blount County Sheriff's Office Cpl. Nick Nitzband retired his K-9, Bak, after working for nine years, five of which were with Nitzband. In February, Bak will be 11 years old.
"In fact, he's still not showing any signs of a will to slow down," Nitzband said. "But, because of his age, I wanted to give him this opportunity to come home and be a dog … to do whatever he wants, to be loved by my children and loved by my wife. "
Nitzband said Bak has become his 2-year-old son's best friend. The 2-year-old gets snacks for Bak, and Bak lays on them if they get caught, so the boy doesn't get into trouble.
Bak has been working with Nitzband since late 2015 and had worked with another BCSO deputy for just over two years previously.
"It's definitely, definitely something I'll always treasure," Nitzband said, "and probably one of the greatest accomplishments I feel I've ever made in the Sheriff's Office. So I'm very proud of it. to have been part of it.
An avid pet owner with several dogs at home, he said he was inspired to join the unit because his father had worked for the Maryville Police Department for over 30 years and the first dog K-9 from the service had retired to his father's house.
"Having that association with understanding the capabilities of the working dog beyond the standard pet, so to speak, kind of inspired me to examine this," Nitzband said.
He plans to have a puppy soon and teach him the obedience techniques he learned as a master.
More than a pet
In a final demonstration with Bak, Nitzband explained that his actions are not aggressive but are his obedience to the "game he has been taught to play".
Bak was a dual-purpose dog, trained to assist MPs in a variety of ways, such as tracking and apprehending.
"The law of obedience is an important thing with our dual-use dogs," Sgt. Allen Russell, the BCSO K-9 unit coach, said. "They are to be obedient to their master, and this is the cornerstone of everything we do."
Nitzband and Bak had trained with Russell for eight weeks starting in early 2016.
"Nick has been an absolute asset to the K-9 unit," said Russell. "The unit is better for him and we are so sorry to see him leave the unit. But we will always keep him close to us. He just thinks he's leaving.
Nitzband's role in the K-9 Association, which raises funds for retired dogs and BCSO events, will keep him involved, he said.
Since he and Bak left the unit, another deputy has had the opportunity to take over.
BCSO MP Billy Madore said since becoming interested in the unit, Nitzband has played an important role in his access and training to enter it.
Two years ago, he said he started coming to the BCSO training center to learn and get to know the members of the K-9 unit.
"Seeing what an asset they bring to the sheriff's office is really what motivated him and being the tip of the spear," Madore said. "As if something big is going to happen now, like a manhunt or something, you know, we're going to be the ones to do it." "
Nitzband recounted one particular song he is most proud of in Bak.
They followed someone for over two hours and a little over two miles once. Like humans, Nitzband said, dogs get tired. But during this trail, he said Bak remained confident and determined to complete the task given to him.
"When you go on a trail and you have no indication of where the person has been, and you are a little lost… this is where you just have to trust your partner completely," said declared Nitzband.
Although he is leaving the K-9 unit, he will still be the Patrol Assistant Supervisor at BCSO and teach obedience to his own pets.
"All dogs have the ability," Nitzband said, "you just have to find out and be able to bring out… that ability (come out) in them."